Time Magazine September 1947 first American designer to be on the cover
A year after I started my career at Saks Fifth Avenue, (I began in sales while I was still in high school), I went into the Fashion/Publicity/Special Events/Advertising Office.  This was in August, in September of that year, and for many years after, the first event of the Chicago Social season was a fashion show benefiting the Illinois Children's Home and Aid Society.  It was chaired by the indomitable, Mrs. Francis J. Klimley, Nancy,  who was an innovator on Chicago's social scene forever!  Not only did she and her husband support many organizations, Nancy always got the right audience to her events.  She was a chic, savvy woman who didn't know how to take no for an answer.  I am so honored that we became friends through the years. I am now friends with her daughter, Lisa Malkin, who carries on her mother's chic heritage and philanthropy.
This was the first formal fashion show I produced and the featured designer was Sophie of Saks Fifth Avenue.  She did not appear in person that year but did in other years, more on one of those appearances later in this posting.  Of course, she was an  iconic designer but, probably more importantly to me, she was the wife of our President, Adam Gimbel.  Mistakes were not an option!
Sophie Gimbel had always designed garments beginning with her doll's clothes by the mid-20's she had already made a name for herself as a stylist and designer and captured the eye of Adam Gimbel who hired her in 1929 (by the way the year Saks Fifth Avenue opened in Chicago!) as lead designer and manager of the Salon Moderne at Saks Fifth Avenue.  They were married in 1931.  The label was originally Sophie Gimbel by the 1940's the label was changed to Sophie of Saks Fifth Avenue.  She was considered the best in the business and led the lifestyle of her clients.  She had an intuitive sense of what her clients wanted and needed to wear…she went to the same events, the same restaurants, the same clubs, therefore observing her peers taste or what she directed their taste to be.  In addition, she went to Europe to buy from the Paris Collections, which in turn were sold at Saks, and to source fabrics for her garments.  All the Sophie collections were conceived and made in New York.  There were fantastic workrooms where all the garments were made not far from the Fifth Avenue flagship Saks Fifth Avenue. I was fortunate to visit them on occasion.  Having observed other designer workrooms in New York, Chicago, and Paris, I can attest that Sophie's could rival Paris in every sense of the word.
With a client in the Salon Moderne, Saks Fifth Avenue, New York
Sophie not only designed the Salon Moderne Collections, which were as close to couture as you can get, absolutely exquisite garments, she also did 3-4 Ready to Wear Collections a year.  All of these were extraordinary successes for the Chicago store.  These collections were presented by her amazing representative, Ciel Grossman, who became my second Mother. I would meet her at Union Station when she arrived with the Collection on the Twentieth Century Limited train from New York.   Help unpack the collection, stage the shows and informal modeling, repack and go back to the station with her for her next city visit.  It was extraordinary schooling and set me up for my entire career.  I will feature stories about my visits with Ciel in New York as well as post some of her wonderful watercolors, but this posting is all about Sophie.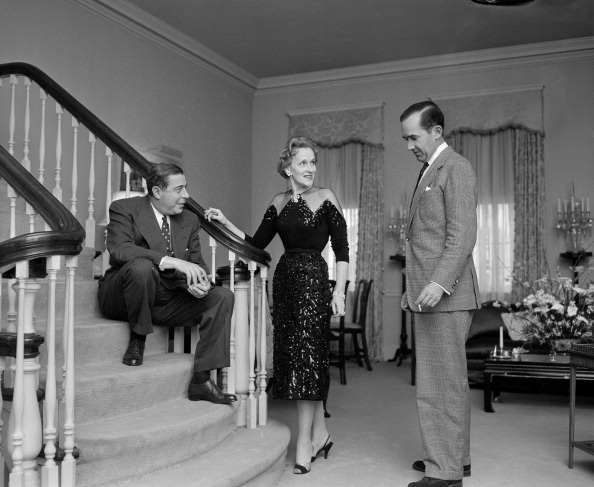 Sophie with Adam Gimbel and Edward R. Murrow getting ready to tape "Person to Person" in their extraordinary home. (I couldn't find a tape of the show…anyone have it????)
Every few years Sophie and Adam would come to Chicago to attend a black tie event at the Ambassador West Hotel in the Guildhall ballroom again benefiting Illinois Children's Home and Aid Society.  We would feature the Salon Moderne collection and Sophie would bring her models with her and we would supplement with ours, just like we did with Norman Norell.  These shows were not commentated and one in particular remains in my mind.  It was shortly after the Guildhall opened, the Publicity Director for both the Ambassador East (now The Public) and the Ambassador West (now condos) Hotels, Lucia Perrago, decided it would be great fun and a major PR event to have the Gimbels brought into the room, after everyone was seated, in Sedan Chairs.  Both Hotels were fashioned after major places in England and Lucia loved to emphasize this whenever possible to much fanfare, such as liveried footmen, and garnered much press. The actual show was on raised platforms placed throughout the room and the models went from one box to another, there was always a model on each of the platforms.  The clothes were dramatic, elegant, stunning and featured what one would consider a wardrobe taking the wearer from day to evening. It was thrilling and we took many orders on the garments.  The press received was extraordinary.
Sophie and Adam Gimbel as they looked when attending our black tie evenings.
Sophie was known for her impeccable taste and love for beautiful jewelry, you can see examples in the above photo. Of course, Sophie was her own best model, she wore her own creations perfectly. Her taste was also evident in the collections in their homes including a museum quality collection of Boehm birds. The Gimbel archives are housed at The New School Libraries and Archives at Parsons School of Design in New York City.
Sophie's elegance was a wonderful example to inspire me at the beginning of my time at Saks Fifth Avenue and pave the path for all the designers I worked with throughout my career. What an honor to have worked with the best of the best, of course, I did work for Saks Fifth Avenue and the company never accepted anything less!
Sophie lives on with her namesake, Sophie's Restaurant at Saks Fifth Avenue, Chicago.  Executive Chef Ron Aleman's ever-changing seasonal menu, extensive wine list, and imaginative cocktails bring clients back and back again and the view can't be found anywhere else in Chicago…it is amazing.  A perfect place to pause during yourshopping spree…a pity that can't include the glorious garments that were created by the unique Sophie Gimbel!
http://www.newschool.edu/parsons/